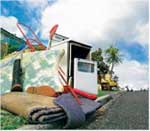 It's 'inorganic rubbish collection' time in Northcote, Auckland, New Zealand.
Northcote street-sides are loaded down with previously-wanted, cheaply-made, briefly-enjoyed and hastily-discarded stuff.
Interestingly, a rather large percentage of the items you'll see piled outside homes in the area can be seen in pre-broken, pre-rusted or pre-outdated condition in store advertising fliers like the "Outdoor Living '08" catalogue from the Warehouse (the near-exact New Zealand equivalent of 'Wal-Mart' – that corporation-of-all-corporations emanating from the U.S.).
Yes, the American disease of paying far-too-little for far-too-much is migrating shopping mall by shopping mall to New Zealand. Continue reading "buying rubbish"